12in Stealth Electric Central Vacuum Power Brush

No broken belts in over 7 years, automatically shuts off under tension, and is adjustable! Requires electric hose and wands with cord channel.


Price

$ 309.00

Quantity:






EUREKA ECV5200B ZUUM CENTRAL VAC,550 AIR WATTS

Eureka Central Vacuum Tank


Price

$ 399.00

Quantity:






Flomaster- Hyperflow Filtration 8 Gallon Capacity

The Flomaster M85 built-in vacuum, with 650 Air Watts, is the most powerful mid-range vacuum under 20 amps available today, so rugs, drapes, furniture and floors receive deep-down cleaning every time they're vacuumed.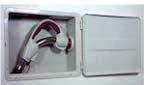 Hidden Retractable Hose System

Hoover Hose Genie is amazing


Price

$ 170.00

Quantity:






Silentmaster - Hyperflow Filtration 12 Gallon Capacity

Designed to fit homes ranging from 1,200 to 25,000 square feet.