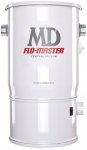 MD Flo-Master F450t 5gal 108 " water lift, 3,000 sq ft

Flo-Master F450t 120 Volt. 3 Year Warranty. Air Watts: 461, Max Amps: 10.2, Waterlift: 108, CFM: 119.5. Coverage 3,000 sq ft


MD Flo-Master- Hyperflow Filtration 8 Gallon Capacity

The Flo-Master F1156AH built-in vacuum, with 650 Air Watts, is the most powerful mid-range vacuum under 20 amps available today, so rugs, drapes, furniture and floors receive deep-down cleaning every time they're vacuumed. Coverage 8,000 sq ft


Silentmaster - Hyperflow Filtration 12 Gallon Capacity

Designed to fit homes ranging from 1,200 to 25,000 square feet.


MD Airmaster bottom-emptying central vacuum

MD introduces Air Master, a full line of industry popular, bottom-emptying central vacuums. Several models, range from 453-700 Air watts, to cover from 6,000-10,000 sq ft warranty is either 3years or 10 depending on model


Titan Central Vacuum Tank TCS-4702

Compact Unit Flat Lid Ideal For Small Homes/Townhomes Metal Construction 12 Diameter x 18 Height Quiet 5.7 2-Stage Thru-Flow Motor 700 Air Watts Sealed Suction (Inches) 140 Circuit Board Electrical Components


Price

$ 499.00

Quantity:






Titan TCS5702

Titan TCS-5702 Central Vacuum System by CanaVac continues the legacy on which Titan was built using the same heavy duty long lasting motors that CanaVac is now using to make them a world leader in Central Vacuums.


Price

$ 599.99

Quantity:






12in Lindhaus Electric Central Vacuum Power Brush

No broken belts in over 25 years, automatically shuts off under tension, and is adjustable! Requires electric hose and wands with cord channel, or now with quick release wand


Price

$ 309.00

Quantity: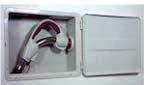 Hidden Retractable Hose System

Hoover Hose Genie is amazing