Pearl Packs

5 sachets/Jar


KITTY-SCRAM

Pet Odor Remover ---Pictures of Quart and Gallon I may substitute equal liquid quantities as in 4 quarts for 1 gallon, or 2 pints for one quart


PET OUT

Pet Stain Remover


EFFORTLESS SPOT LIFTER

For Carpeting, Upholstery and Laundry Prewash


Pure Power Pet Stainoff

Pure Power Pet Stainoff product is an industrial grade, ready to use pet stain remover that is powerful, yet safe for home use. Lifts pet stains from carpets, upholstery and most textile surfaces.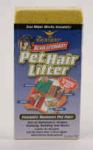 The Gonzo Pet Hair Lifter

Easy and convenient. Just wipe along any surface to effortlessly remove pet hair.


MICRO-SOLVE pint

Enzyme Action Pre-Spray--Great on all food related stains pint