12in Lindhaus Electric Central Vacuum Power Brush

No broken belts in over 25 years, automatically shuts off under tension, and is adjustable! Requires electric hose and wands with cord channel, or now with quick release wand


14in Lindhaus Electric Central Vacuum Power Brush

With 14" of cleaning power the Lindhaus Electric Power Head makes cleaning any space quick and easy. The electronic circuit allows proper height adjustment on carpet. In addition, it makes the motor start slowly, keeping the speed steady.


MD Airmaster bottom-emptying central vacuum

MD introduces Air Master, a full line of industry popular, bottom-emptying central vacuums. Several models, range from 453-700 Air watts, to cover from 6,000-10,000 sq ft warranty is either 3years or 10 depending on model Can be run with or without a bag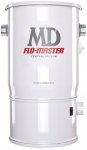 MD Flo-Master F450t 5gal 108 " water lift, 3,000 sq ft

Flo-Master F450t 120 Volt. 3 Year Warranty. Air Watts: 461, Max Amps: 10.2, Waterlift: 108, CFM: 119.5. Coverage 3,000 sq ft


MD Tank Flo-Master- Hyperflow Filtration 8 Gallon Capacity

The Flo-Master F1156AH built-in vacuum, with 650 Air Watts, is the most powerful mid-range vacuum under 20 amps available today, so rugs, drapes, furniture and floors receive deep-down cleaning every time they're vacuumed. Coverage 8,000 sq ft


MD Tru-Seal Bags Pkg of 3

MD's Tru-Seal Microfiltration System is a top-Fill central vacuum power units. This System features three connection points which allows debris intake from the front utility valve and both side intakes. The new bag is easy to install


MD Tru-Seal Upgrade Kit

Kit is available to convert ALL 8 & 12 GALLON UNITS including ALL Silent Master, MD, Modern Day, Flo-Master, and Air-Flo Vacuum Units. Tank changes from open top, filtration to a complete dust and debris concealed filtration system.