Miele Belt for SEB 213, STB 205

This genuine Miele Belt is for the SEB 213, SEB 213-2, SEB 217 and SEB 217-2 Powerbrushes plus STB 205 STB 205-2, and STB 205-3 Turbobrushes. The cog design provides positive power transfer from the motor or turbine to the brush roll. It can not stretch a


Price

$ 10.95

Quantity: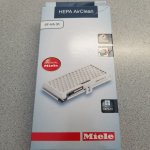 Miele SF-AH30 HEPA Filter Upright vacuums all models

Miele SF-AH 30 Active HEPA filter for the Miele S300 i thru S 899 canister vacuum cleaner models.


Price

$ 49.95

Quantity:






Miele Belt drive S170-179 183-185 (2)

This Miele Belt is for all Powerhouse and Powerhouse Plus uprights.


Price

$ 10.99

Quantity: